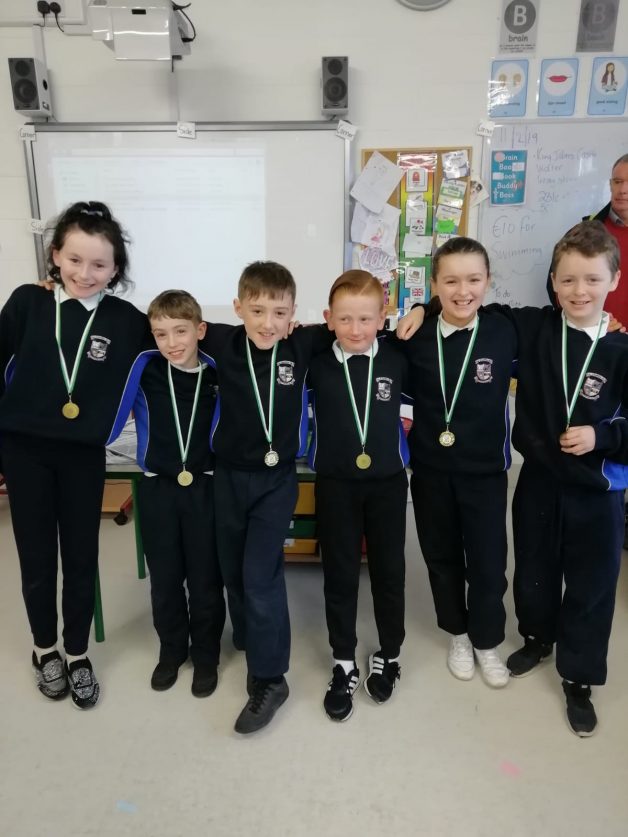 The recently held Le Chéile Champions League Soccer Tournament concluded after a series of epic encounters.
With teams from 3rd and 4th classes, the tournament got off to a flying start with a series of very exciting and closely contested games.
Real Madrid, captained by Paddy Casey (3rd class) and ably assisted by Terry Casey, Tori Byrnes, Molly O'Shaughnessy, Chanelle Power Byrnes, Jessica Courage and Travis Wong McNamara made the early running with a number of wins. They led, closely followed by Lyon who were Captioned by Martin Hogan with star players Thomas Ryan, Paddy Casey (4th class) , Saoirse Ryan, Jason Browne and Kaeleigh Brown in second place.
Sevilla, captioned by central defender Marilyn O' Donnell, prouded stiff competition to the top two teams. Sevilla had a number of star players in their team: Sonny Dillon, Kelsey O' Shea, Timmy- Joe Casey, Ellie Rose McCormack and Alannah Kelly.
Athletico Madrid superbly led by the skilful Robert Williams, won a number of games on the trot. Among their star performers were Jamie Ward, Ellie- May Casey, Emma Bridgeman, Ava Keane, Lully- Margaret Casey, Katelyn O' Meara, Paco Casey, Mary Kate McCauley Collins and Evita Klimasauskaite.
After a series of games, Real Madrid and Lyon emerged to contest the final. This was held on Monday 4th of February. It proved to be a truly epic and memorable final with both teams giving their all until the final whistle. Lyon emerged victorious on a score line of 2-0. Both goals were scored by Martin Hogan.
Afterwards, both teams were presented with medals, plus awards were made to the following players:
Most improved player Female: Lully Margaret Casey.
Most improved player Male: Timmy Joe Casey.
Best goal Female: Ava Keane.
Best goal Male: Paco Casey.
Congratulations and Well Done to all involved and MASSIVE thanks to Ms. Maher and Mr. McNamara for organising a fantastic competition.