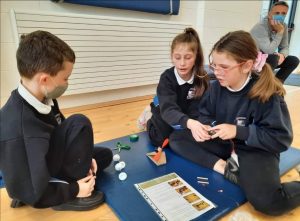 Le Chéile NS are delighted to have recieved a SFI STEAM Plaque for the 2020-2021 academic year. STEAM stands for Science, Technology, Engineering, Arts and Maths.  This was very much a whole school project with every class getting involved. A special mention must go to Mrs Cassidy for all her efforts in co-ordinating the project. Pupils were involved in numerous projects throughout the school year and have evolved as budding scientists, engineers, coders and much more. The school is proud of our ability to include all pupils in our projects and we stand by our slogan "Together We Achieve".
The following is the feedback we received:
Congratulations – your school has achieved an SFI Discover Science and Maths Award for the 2020/2021 academic year. We have evaluated your Log of Evidence and we are satisfied that you have met all the criteria for the Plaque of STEM.
Your school has provided evidence of children's engagement with STEAM in the following areas:
Science
Technology
Engineering
Maths
STEAM Showcase
Here is some feedback on your Log of Evidence:

Congratulations on achieving your Plaque of STEM award this year! During a challenging year you have done amazing work and the creativity of your students really shines through. Your STEAM projects were outstanding, from your skeletons and human bodies to your robots, and it is great to see that you kept the sustainable development goals in mind and focused on using recycled materials. Your school completed a wide range of investigations, and it is great to see that your learners predicted what they thought would happen beforehand and then analysed the process afterwards. Another thing I loved was that your learners used their learning about the environment to look after the school grounds and the local ecosystem through their litter pick ups and looking after the school plants and birds!

Stellar work this year and you should all be very proud of your achievements! As a tip for next time, we loved seeing the students' design and make projects and seeing how each was so creative and individual to the learners. We would definitely encourage you to provide lots of examples of this next year again, just like you did this year. Congratulations again Le Chéile National School and we hope to see your work again in the awards next year!
The school would like to thank everyone for their involvement.